ROBERT ČERNIGOJ, SLOVENIA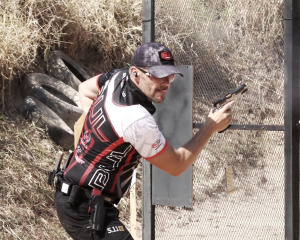 Robert started shooting in 2012 and since than he has already received many flattering titles in IPSC shooting, both at home and abroad. Thus Robert became a teacher for all those who wish to prosper in this sport. But despite of already being a great shooter, Robert is still trying to improve himself in what, beside his talent and love for this sport, M-Arms grips and base pads play an important role.
PAVLE DOMADENIK,
SLOVENIA
Since Pavle was an active member of the special parachute unit during Yugoslavia, he is familiar with weapons. He started with IPSC competitions in 2010 as a Senior in Standard division (at home and abroad), and has been competing as a Super Senior since 2016, where he finished 1st in 2019 national championship. Pavle loves dynamic shooting because of its sense of camaraderie and equality of all shooters, whether older, younger, masters, amateurs, men and women, who have the same tasks and challenges. He uses M-Arms products as they are designed for shooters with different requirements and needs. Pavle uses base pads for a quick insertion of the magazine in the pistol and short thin grips due to his smaller hands, which allow him a firm grip, full control of the gun and a quick reach of the magazine release button. And because of the excellent grips' checkering, he no longer uses magnesium in case of sweaty hands.
BOŠTJAN PAVLIČ,
SLOVENIA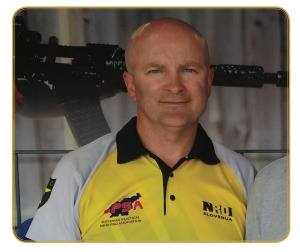 Boštjan has been involved in practical shooting for over 25 years, competing with handgun, rifle and shotgun. He finds IPSC attractive because of its undefined perfection, as each stage can be shot with better hits, faster time, etc. Boštjan uses M-Arms products because of their precise design and high quality since they have been created on the basis of consultation with best competitors in order to meet their requirements. M-Arms products are distinguished by the constructor's ear for improvements and usability for achieving top-notch shooting results in training and competitions.
JORGE BALLESTEROS,
SPAIN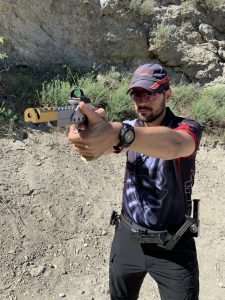 Jorge Ballesteros is a professional shooter that started his shooting career in 1999 when he was just 16 years old. He has won many championships in all these years, the most important ones being the IPSC World Championship in 2017 and the IPSC European Championship won three times in a row (2013, 2016, 2019). Therefore, his dedication and his passion to this sport is well proven. He decided to use M-Arms products because of its utility and quality as he considers them a multi-purpose concept affirming that these are very interesting and useful on his equipment.
VIOLETTA BOEHM,
ITALY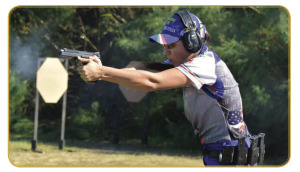 Violetta dreamed about shooting since she was a child. In 2013 she tried it out and immediately fell in love with the shooting world, especially IPSC. She loves its complexity and the fact that it takes 100% of a shooter's effort, does not forgive errors, forces strategic thinking, planning and performing the best under stress and pressure in any weather conditions. IPSC gave her the possibility to experience all that, which charges her with energy. Violetta uses M-Arms base pads and grips, so she does not need any additional grip elements (like magnesium, etc.), which is especially practical in rain or extreme heat with sweaty palms.
MARJAN DŽONIĆ,
SERBIA
Marjan started practicing shooting in 2004 as a member of the Special Anti-Terrorism Unit of the MUP RS (Serbia). In addition to being a competitor, for the last 7-8 years he has been trying to transfer his experience and knowledge as a coach to new competitors. Marjan uses M-Arms brass grips as they offer a better and firmer grip, while also to add the weight and reach faster splits. He also uses M-Arms aluminum base pads as the magazines fall out the frame faster and always fall to the bottom preventing the magazine to get damaged.
ALEXANDER KASTNER, AUSTRIA
Alexander began to shoot IPSC at the end of 2015 and in 2018 he already reached the title Region champion while in 2019 he reached region and national champion in Austria in Classic Overall. Today, he is a proud holder of five presidential medals and is one of the members of national team Austria. In 2019 he attend first time EHC and reach the 12th place in overall classic division. Alexander loves IPSC and considers it as a challenge for the body but even more for one's mind, and believes it is not just a matter of winning, but a process of permanent learning. Alexander uses M-Arms grips, magwell and pads, for which claims are more than just products, as there is an idea behind the design and production, which came from a practical shooter, who understands the needs of other sport shooters.
HRVOJE MARIĆ,
CROATIA
Beginnings of IPSC shooting of Hrvoje originate from his profession related to police work. He loves this sport because of the excitement it provides, while also all new people he meets, collegiality, new discovering, and overcoming the limits and standards set by other shooters. Hrvoje uses M-Arms grips and base pads as, besides being safe, the latter also provide him confidence, speed and precision in handling and use of weapons.
MIGUEL RAMOS,
PORTUGAL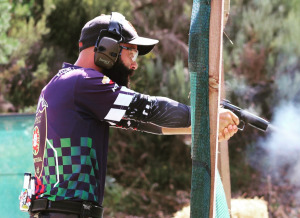 Born in a family where there was already a taste for weapons, he grew up with the dream of practicing IPSC worldwide. His career in IPSC started in 2011 and from 2014 on he has won all the possible national titles and several international ones. In 2019 he finished 14th place on the EHC. Miguel is passionate about IPSC and challenges himself every day to be a more complete, competitive and a better shooter, therefore he goes with the slogan "In each training session, there is a challenge to be overcome". Miguel chose the M-Arms brass grips (and STD RETRO base pads) as it gives him a very effective control over the weapon, provides greater speed and precision, and which even in extreme heat or rain conditions still offer an excellent grip.
TÍMEA SALAMON,
HUNGARY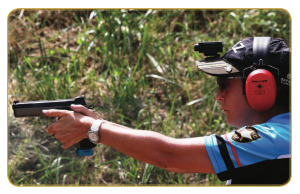 Tímea started shooting in 2002 as a member of a special police unit and from 2010 she is a tactics and shooting trainer. She became actively involved in IPSC in 2008, since than she earned many lavish titles in Hungary and elsewhere. She made it 10th at IPSC World Championship 2017. Tímea uses M-Arms grips and base pads, which make her better and more accurate at competitions, due to good formation, which allow a perfect grip.
JELENA SAVKOVIĆ,
SERBIA
World IPSC scene cannot be considered nor analyzed without Jelena, her unique talent, exceptional skills and above all, her magnificent relationship(s) with worldwide fellow shooters, what is also one of the most recognizable IPSC brands called "Jelena from Serbia" or "Jelena from Greece". Jelena has been actively involved in IPSC world for more than 12 years, and among all other titles she is a proud owner of European Champion as well as vice World champion in classic division. Beside of being an excellent shooter, she is also a personal trainer. Jelena uses M-Arms grips, magwell and magazine base pads, which she considers to be more than just fancy and colored gun accessories. It has been designed by someone who understands practical shooting and the needs of these unique athletes when the Range Officer says "Are you ready?". After the timer beeps, best possible grip, while also fast and secure reload are equally important as competitors' skills itself. For that part of her performance, Jelena considers M-Arms to fit these need(s).
 

DAAN VAN ETTEN,
NETHERLANDS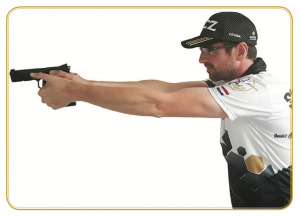 For Daan shooting is one of the most interesting sports where speed, accuracy and physical demands make it a challenging experience. Daan started with IPSC in 2013. From the beginning he is constantly motivated to improve and sees every training and match as a chance to learn something new. Daan uses M-Arms grips as its micro pockets give control over the weapon under any circumstance, resulting in better accuracy and faster follow up shots. The wide grips enable a great grip for shooters with big hands and look very cool too!